FRACTURE HEALING AND CLOSED TREATMENT OF FRACTURES AND DISLOCATIONS
Editors:
Chapman, Michael W.
Title:
Chapman's Orthopaedic Surgery, 3rd Edition
Copyright ©2001 Lippincott Williams & Wilkins
> Table of Contents > SECTION
II – FRACTURES, DISLOCATIONS, NONUNIONS, AND MALUNIONS > General
> CHAPTER 10 – FRACTURE HEALING AND CLOSED TREATMENT OF FRACTURES
AND DISLOCATIONS
CHAPTER 10
FRACTURE HEALING AND CLOSED TREATMENT OF FRACTURES AND DISLOCATIONS
Michael W. Chapman
M. W. Chapman:
Department of Orthopaedics, University of California Davis, Sacramento, California, 95817.
M. Madison:
University of California Davis, Sacramento, California, 95817.
R. B. Martin:
Department of Orthopaedic Surgery, University of California Davis, Sacramento, California, 95817.
Acknowledgement:
The section on fracture healing was a separate chapter in the second
edition and was written by Michael Madison and R. Bruce Martin.
Substantial portions of their original chapter are retained in this
revision.
A. FRACTURE HEALING
Michael Madison
R. Bruce Martin
Spontaneously healed fractures are not uncommon in the
skeletons of wild animals and in archaeologic human skeletons. This
kind of fracture is typically a closed, low-energy fracture with only
slight displacement. Pain probably forced the injured person to protect
his extremity until the fracture healed, and subsequent bone remodeling
smoothed out any rough step-offs at the fracture site. The role of the
surgeon in treating simple fractures of this type may indeed be as
Voltaire characterized it: "to amuse the patient while nature heals the
injury."
In the last 400 years, a fundamentally different type of
fracture has become increasingly common. This is the high-energy
industrial, vehicular, or ballistic fracture that overwhelms the body's
capacity to repair it. It demands clinical intervention, the goal of
which is to convert the fracture to a facsimile of a low-energy
fracture that the body is biologically equipped to repair. If the
reduction, fixation, and soft-tissue management of a high-energy
fracture are successful, the fracture can heal by the same cascade of
events that typifies healing of a low-energy fracture.
THE FRACTURE EVENT
Bone's lamellar and osteonal structures direct crack
propagation in certain predetermined directions. The lamellar junctions
and cement lines of bone are weak, and they crack more easily than the
bulk of the material. These weak interfaces are oriented so that the
cracks travel along

and
around the bone, rather than directly across it. Energy that would
quickly break a bone is used in forming longitudinal or circumferential
cracks that do not cause failure and that can be repaired by remodeling
(50).
The material strength of bone differs in various modes
of loading. It is strongest in compression, weakest in shear, and
intermediate in tensile failure stresses. When a bone is fractured by
compression, it tends to fail along planes that carry the highest shear
stresses, which reach the failure level first; these planes typically
are at an angle of 45° to the load direction. When a bone is bent, the
highest stresses are tensile and compressive; failure begins on the
tensile side and propagates toward the compressed side. When the crack
enters the compressed tissue, it again tends to travel along the 45°
planes of maximum shear, causing splitting, butterfly chips, or other
types of comminution.
Bones loaded in torsion tend to break in tension and
longitudinal shear because the transverse shear stress created by the
twisting is across rather than along the fibers. The tensile stresses,
however, lie at a 45° angle to the fibers and have only to separate
them rather than to break through them to cause failure. Torsion
typically produces a break that spirals around the bone at this angle
and returns to its starting point along a longitudinal shear stress
plane.
The greater the energy, the more likely the bone is to
break into many pieces. The energy is propagated through the bone as a
stress wave (similar to a sound wave or an earthquake), and the greater
its magnitude, the more likely it is that many parts of the bone will
reach a failure criterion virtually simultaneously. The velocity of a
stress wave in bone is about 3,000 m/sec. The energy required to break
a bone is small compared with that encountered in daily activities.
For example, it takes only about 15 joules (J) of energy
to break the shaft of an adult tibia or femur. The energy released when
a 70 kg person falls to the ground from a standing position is about
500 J. The ability to absorb this energy using eccentric muscle
contractions and deformations of soft tissues usually prevents
fractures from occurring in insignificant falls. If this ability is
impaired by surprise, restrictions, or incapacity, fracture occurs
easily. The propensity of elderly people to fracture their bones easily
reflects the weakness of their bones and the weakness of the muscles
and ligaments that fail to adequately absorb the applied energy, which
instead is transmitted to the bones.
Soft-tissue deformation absorbs energy during an
accident in two ways. First, loads applied perpendicular to the tissues
compress them and propagate stress waves up and down the body. The
tissues effective in this way are skin, fat, and muscle (and fur on
animals or clothing on humans). Second, tissues such as fascia,
tendons, ligaments, joint capsules, and contracted muscle brace bones
against bending by supporting part of the tensile stresses. They absorb
energy as they are stretched, but they must be nearly as stiff as the
bone to be effective. One implication of these mechanisms of energy
dissipation is that in very high energy (high-power) fractures, damage
to the soft tissues tends to parallel the degree of damage to the bone;
thus, the most severe fractures tend also to have severe impairment of
the associated soft tissues on which fracture healing depends.
THREE PHASES OF FRACTURE HEALING
In 1975, Cruess and Dumont proposed that fracture
healing may be considered to consist of three overlapping phases: an
inflammatory phase, a reparative phase, and a remodeling phase (
21
).
This scheme, based largely on descriptive histology, has been widely
reiterated. Others have divided fracture healing into four or five
phases (
30
,
53
,
99
).
These divisions are somewhat arbitrary and reflect differences in
emphasis more than in content. Common to all is the concept that the
fracture initiates a biologic cascade, a sequence of steps activated by
and depending on the previous steps. For convenience, we describe
fracture healing in terms of the three phases recognized by Cruess and
Dumont, noting that the reparative phase combines several processes.
The inflammatory reaction immobilizes the fracture: Pain
causes the patient to protect the injured part, and swelling
hydrostatically splints the fracture. At the tissue level, the
inflammatory phase is identical to the typical inflammatory response of
most tissues to traumatic injury. Vasodilation and hyperemia,
presumably mediated by histamines, prostaglandins, and various
cytokines, accompany invasion of the injury site by neutrophils,
basophils, and phagocytes that participate in clearing away necrotic
debris. The fracture hematoma becomes organized as a developing fibrin
network that provides pathways for cell migration. It is also presumed
that during the inflammatory phase, various noncollagenous protein
growth factors that regulate cell migration and differentiation and
that normally are trapped in the bone matrix are released into
solution, where they become active (
25
,
59
). The inflammatory phase peaks within 48 hours and is quite diminished by 1 week after fracture.
The reparative phase becomes activated within the first
few days after fracture and persists for several months. Its chief
feature is the development of a reparative callus tissue in and about
the fracture site that gradually is transformed to bone. The callus may
consist of cartilage, fibrous tissue, osteoid, woven bone, and vessels.
The primary callus response is the direct response of
bone to local inflammation, whether the inflammation is caused by
fracture, infection, a foreign body, or a neoplastic process (
44
,
53
). Two salient features of the primary


callus response deserve mention. The first is that the response appears
to be relatively independent of mechanical factors, as evidenced from
the significant primary callus response to a foreign body or at the end
of an amputation stump (i.e., half-fracture), or the cap of callus that
may appear at the protruding end of a hollow intramedullary rod (44,53).
Second, the primary callus response does not continue indefinitely. If
the primary callus (i.e., the provisional callus) has failed to unite
two sides of a fracture within a few weeks, it may cease to grow and be
resorbed, as may be observed of the callus at the amputation stump or
on one side of a large segmental defect.
If the primary callus is successful in connecting the
fracture ends, healing progresses to the stage of bridging callus or
hard callus. Although bridging callus seems to imply the directed
growth of tissue outward from the viable regions distal and proximal to
the fracture, the hard callus seems to differentiate simultaneously
throughout its distribution, rather than growing as an advancing front.
Calcification of the callus may be by direct bone formation by
osteoblasts or by endochondral ossification, depending on the local
oxygen tension (
4
). Typically, growth of a
large callus greatly outpaces the ingrowing vessels, and endochondral
ossification predominates. In a small, mechanically stable defect, such
as a drill hole, primary (intramembranous) woven bone formation
predominates.
The cellular components of the callus derive chiefly
from the marrow and the periosteum. The number of osteoblasts and
osteocytes present at the time of fracture is insufficient to sustain
the high anabolic demands of the growing callus (
30
).
The differentiation of pluripotential mesenchymal cells, fibroblasts,
and chondroblasts is the primary source of callus cells. (Induction
refers to the differentiation of mesenchymal cells into chondroblasts
or osteoblasts in tissues that do not normally form bone, as observed
in various animal experiments. Induction in this sense is not directly
applicable to fracture healing.)
As the callus calcifies and becomes rigid, the fracture
becomes internally immobilized, and the examiner may consider the
fracture to be healed. The initial calcification is remodeled by
osteoclasts and osteoblasts, leading to the replacement of calcified
cartilage and woven bone by lamellar bone in the final (remodeling)
phase of fracture healing. This phase represents the normal remodeling
activity of bone, although it may remain accelerated in the region of
the fracture for several years, replacing each volume several times
over. In children, the remodeling phase proceeds more vigorously and
includes
modeling
(independent resorption and formation) and
remodeling
(formation coupled to resorption). The result of the remodeling phase
is a gradual modification of the fracture region under the influence of
mechanical loads until it reaches some threshold of optimal shape,
which typically is similar to the shape it had before fracture.
PRIMARY BONE HEALING
In the presence of perfect apposition of the fracture
fragments and rigid fixation, as may be achieved for instance by
compression plating an osteotomy, the callus response may be suppressed
altogether. In this case, healing proceeds by normal osteonal bone
remodeling. As an increasing number of osteons cross the fracture site,
the two sides become united. Although primary bone healing has been
considered by some to be a goal of fracture repair, it offers no
particular advantage over normal, callus-mediated (i.e., secondary)
bone repair (
75
,
86
). It
proceeds very slowly, especially in adults, and the intermediate stages
are weak. A second potential disadvantage of primary bone healing is
that, unlike callus-mediated healing, it does not progress in an
anaerobic environment.
VARIABLES IN FRACTURE REPAIR
BLOOD SUPPLY
The afferent supply to an intact long bone comprises three systems, which may anastomose among themselves (
76
,
77
and
78
,
94
,
95
).
The medullary system, which chiefly supplies the diaphysis, derives
from the nutrient artery. The metaphyseal system supplies chiefly the
cancellous bone of the proximal and distal metaphyses and anastomoses
with the medullary system. In a child with open physes, the epiphysis
and metaphysis have separate blood supplies. After closure of the
physes, these two anastomose and are thereafter referred to as the
metaphyseal system.
The periosteal blood supply derives from vessels in the
periosteum, especially at regions of fascial or tendinous attachments.
These vessels penetrate and supply the outer third or less of the
cortex. Wherever the surface of the bone is covered by articular
cartilage, a periosteal blood supply is absent. Regions of bone in
which a large proportion of the surface is articular, such as the
talus, carpal scaphoid, and femoral head, are therefore at particular
risk for ischemic damage after trauma because they lack a major source
of vascularity (
31
,
32
).
The efferent vascular system of bone includes the
medullary vein, which drains much of the medullary and endosteal
cortical portion of the bone before exiting through the same foramen by
which the nutrient artery enters, and a system of periosteal veins.
Anastomosis between the afferent and efferent arms of the vascular
system is through marrow sinusoids in the medullary region or through
small arterioles within the haversian systems. There is no capillary
bed per se. Rhinelander observed that the principal direction of blood
flow is centrifugal, from the endosteum to the periosteum (
76
).
Parallel to this is a centrifugal bulk flow of interstitial fluid along
a pressure gradient from approximately 20 mm Hg in the medullary canal
to near zero peripherally (
67
,
87
).
The effect of fracture on the blood supply to a bone
depends on the nature and severity of the fracture. In a minimally
displaced fracture, the small vessels in cortical bone are disrupted,
resulting in ischemic death of the osteocytes near the fracture line,
but the major medullary and periosteal vessels may be sufficiently
elastic to remain intact. The medullary system may be the primary
source of the vascular hyperplasia that supplies the callus.
With a greater degree of displacement and disruption of
the medullary vascular system, the metaphyseal or periosteal vessels
may play a greater role in vascularization of the callus. Rhinelander
considered that a fourth afferent vascular system, arising from
adjacent soft tissues (especially muscle), could serve as the primary
source of new vascular growth after a displaced fracture in which the
medullary and periosteal systems were grossly disrupted (
77
,
78
).
Support for this concept comes from the observation that fracture
healing is enhanced by the use of muscle flaps. A study of segmental
tibial fractures in dogs demonstrated significantly increased blood
flow 30 days after injury for the fractures covered with muscle flaps
compared with those covered by skin alone (
79
).
Vasodilation and angiogenesis occur rapidly after
fracture. In experimental fractures of canine tibias, the regional
blood flow near the fracture reached its maximum (six times normal) by
10 days after injury and was still elevated 4 months later. Blood flow
in the same tibia but distant from the fracture site was also elevated,
reaching its peak 1–3 weeks after injury and declining gradually
thereafter (
68
). Gupta et al. showed that blood vessels crossed the fracture line after about 3 weeks in fractured dog tibias (
36
).
In humans, failure of transfracture vessels to form by 10 weeks, as
indicated by osseous phlebography, is considered a sign of impending
nonunion (
74
).
Internal fixation with plates and screws may cause
periosteal ischemia directly beneath the plate, but the procedure
otherwise does not interfere with regional revascularization (
73
).
Placement of a reamed intramedullary nail obliterates the medullary
blood supply, however, shifting the source of vessel ingrowth to the
metaphyseal, periosteal, and soft-tissue systems (
77
).
In a canine study, fixation with an intramedullary nail led to reduced
blood flow at 14 and 90 days and reduced callus formation compared with
fixation with a plate, although all fractures united regardless of
fixation method (
3
). A nonreamed nail or a
tight-fitting nail that is fluted leaves channels in the medullary
cavity that soon are invaded by medullary arteries.
The blood flow to bone can be manipulated
pharmacologically by vasoconstrictors, vasodilators, and their
antagonists. Brinker et al. propose that use of these agents to promote
local blood flow in bone may prove useful therapeutically in managing
delayed unions or infected fractures (
13
).
AGE
It is well known that fractures heal much more
vigorously in children than in adults. In elderly people, fracture
healing may proceed very slowly, and what is normal healing in a
75-year-old patient would be a delayed union in a young person. Slow
healing does not seem to be an inherent cellular problem of aging,
because osteoblasts from trabecular bone grown in culture show similar
metabolic characteristics regardless of the age of the donor (
24
).
SEASON
Circulating levels of vitamin D metabolites in geriatric
fracture patients exhibit strong seasonal variation, with higher levels
in summer, when solar radiation is greatest. It has been suggested that
impaired dietary intake of vitamin D in the elderly shifts the balance
toward endogenous vitamin D, which depends on solar ultraviolet
radiation as a catalyst (
56
,
57
).
This finding has been shown to correlate with the seasonal incidence of
hip fractures, although an unequivocal relationship to fracture healing
has not been demonstrated.
SPECIES
Rats and rabbits heal fractures very readily. Because
neoteny has played a significant role in their evolution, rodents may
be considered better models of fracture healing in human children than
in human adults. Much experimental work on fracture healing and on bone
induction that has been done on rodents cannot be assumed to apply
directly to adult humans (
12
).
TYPE OF MARROW
At birth, most bones have red marrow. As a child ages,
the red (hemopoietic) marrow in the appendicular skeleton is replaced
by yellow (fatty) marrow, beginning with the toes and fingers and
proceeding proximally. In the adult, the red marrow is confined chiefly
to the axial skeleton, with a small amount of red marrow remaining in
the proximal femur. Red marrow is highly osteogenic, and bones with red
marrow (e.g., ilium, vertebral bodies, ribs) generally heal readily
compared with regions of yellow marrow (e.g., tibial diaphysis).
TEMPERATURE
The "warm bones" (i.e., the axial skeleton) heal more readily than the "cold bones" (i.e., the appendicular skeleton) (
40
).
The axial bones are also those that retain red marrow, a fact that may
in part explain their more vigorous healing. Temperature, however, may
also be a factor in fracture healing: It has been shown that fractures
of vertebral bodies in mice heal much more rapidly when kept at higher
temperatures (
63
).
ENDOCRINE AND AUTOCRINE FACTORS
Cortisone generally is catabolic for the skeleton and
diminishes the size of a fracture callus. It also causes a deficit in
the bone laid down during remodeling of the callus. Growth hormone, on
the other hand, has the capacity to increase callus volume, but it is
effective therapeutically only in the absence of normal endogenous
growth hormone. Experimentally, growth hormone has accelerated healing
in old rats (
2
). Parathyroid hormone and
thyroxine increase the rate of bone remodeling; abnormally low values
of these hormones reduce the rate of remodeling in the final phase of
fracture repair. Serum calcitonin and 24,25-(OH)
2
-D
3
are significantly elevated during the first 6 weeks of fracture
healing, but their effects on fracture healing are not entirely clear (
57
).
Disturbing the bone marrow (e.g., by reaming the
medullary canal) appears to liberate a systemic circulating factor that
stimulates bone growth or mineral apposition elsewhere in the skeleton.
This phenomenon has been shown experimentally in rodents and in
patients undergoing marrow aspiration (
23
,
26
).
It has long been known that patients with severe head injuries heal
fractures very aggressively and have a high propensity to make
heterotopic bone. Serum from these patients stimulates osteoblasts in
tissue culture, compared with serum from patients with other fractures (
8
).
These observations suggest that one or more circulating systemic agents
may regulate fracture healing, but these agents have not been
identified.
METABOLIC BONE DISORDERS
Fractures in patients with rickets or osteomalacia heal
normally, but the resulting bone tissue has a mineral deficit.
Similarly, fractures in osteoporotic patients heal normally, but the
remodeled fracture site is osteoporotic.
MECHANICAL ENVIRONMENT OF FRACTURE HEALING
In general, the strength or stiffness of any structure
depends on the product of a geometric factor and the strength or
stiffness of the material within. If the geometric factor is made
larger, the structure can be made of a weaker material and be just as
strong (
Fig. 10.1
). A callus composed of
material that is relatively weak, for example, can nonetheless achieve
the strength of the intact bone if its diameter is greater.
Figure 10.1.
For a bone loaded in bending by a force
F
,
at any cross section there is tensile stress on the upper surface and
compression on the lower surface. Consequently, there is a line through
the middle of the section where the stress is zero; this is called the
neutral axis. The contribution of each moiety of bone in the cross
section is the product of its area and the square of its distance from
the neutral axis. For a tube, the cross-sectional moment of inertia
(CSMI) is π/4(
R
4
–
r
4
). The section modulus equals the CSMI divided by
R
.
This principle governs the "engineering philosophy" of
fracture healing: The strength and stiffness required for functional
union are achieved rapidly by formation of a callus that has poor
material but has a high section modulus (large diameter). Woven bone
and calcified cartilage, although weaker than lamellar bone, can be
produced two to five times faster. By locating much of this material
farther from the center of the bone than the original cortex, nature
compensates for the mechanical inferiority of the callus materials.
Figure 10.2
illustrates this
principle, using dimensions typical of a large bone fracture callus.
The external callus itself may easily achieve twice the section modulus
of the intact cortex, and the total callus may have triple this value.
The callus material needs to be only one third to one half as strong as
cortical bone for the callus to return the bone to normal strength. By
the same token, the strength of an abundant, mineralized callus can
substantially exceed that of the original and adjacent cortex.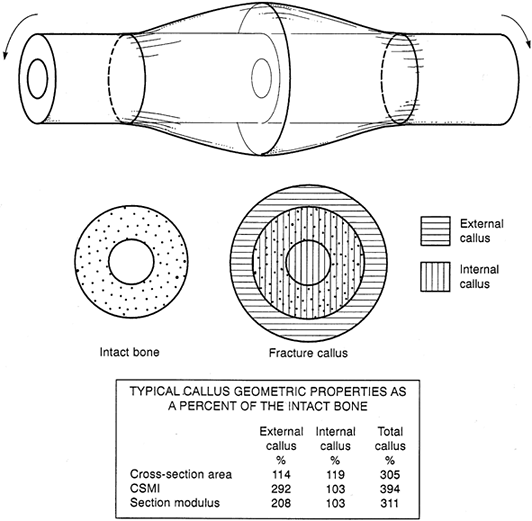 Figure 10.2.
A typical long-bone fracture callus. The external callus is defined as
that located outside the original bone cortex; the remainder of the
callus is the inner callus. Assuming that the diameters of the
endosteal, periosteal, and callus periphery are 10, 25, and 35 mm,
respectively, the geometric properties of the callus are shown as
percentages of the intact bone in the table. Note that the section
modulus of external callus alone substantially exceeds that of the
intact bone, although its area is only slightly greater.
Clinical intervention to stabilize the mechanical
environment is one of the principles of fracture management. We now
recognize that absolute rigidity should not be the goal of mechanical
intervention, because it entails two potential disadvantages: Stress
protection by fixation devices may cause bone resorption, and lack of
motion at the fracture site inhibits callus formation (
72
).
Fracture healing seems to benefit from a certain amount of controlled
axial loading and micromotion, although how much is "just right" is
unknown (
34
,
45
,
54
).
Ribs heal with quite a bit of motion; a tibia probably tolerates much
less. The use of less rigid materials (e.g., titanium rather than
stainless steel) and the intramedullary rather than cortical placement
of fixation devices (which decreases the sectional modulus) tend to
increase the amount of micromotion at the fracture site (
101
).
In a study of fractured dog femurs, Uhthoff et al. found that cortical
bone loss due to stress protection beneath titanium plates was about
one third that under stainless-steel plates, which were 50% stiffer
than the titanium plates (
97
). Terjesen and Apalset found that 70% to 95% reductions in plate stiffness resulted in a 16% to 100% increase in callus size (
92
).
As a fracture heals, loads ideally should be borne
increasingly by the bone and less by fixation devices. This gradual
shift can be achieved by using unlocked intramedullary devices or by
dynamizing locked nails or external fixators. Resorbable implants that
are now on the market also have great potential for effecting a gradual
transition of load bearing from the device to bone, provided that their
resorption kinetics can be adequately regulated. Plates and screws are
much less amenable to a gradual shift of load bearing to the bone.
ELECTRICAL PHENOMENA IN FRACTURES
When bone is mechanically loaded, so-called stress-generated potentials are produced by at least two mechanisms (
1
,
35
).
Streaming potentials are produced when interstitial fluids are forced
through the calcified matrix by dilatation of some regions and
compression of others. Piezoelectric potentials are produced by
deformation of the collagen molecules. Both electrical potentials are
transient when produced by physiologic loads, because streaming occurs
only while deformation is in progress, and piezoelectric potentials
produced by a prolonged load are canceled by migration of opposite
charges in the interstitial fluids. A permanent electrical polarization
is associated with collagen in bones, however, and this permanent
polarization appears to be altered when fracture occurs (
2
). The fracture site becomes negatively charged (
7
). It has been postulated that this polarization is related to the cascade of biological events that result in repair.
This idea has its origins in the observation that cells in amphibian serum are morphologically altered when exposed


to an electrical field (7,9).
Because osteoblast stem cells may include circulating mesenchymal
cells, investigators thought that stress-generated potentials might be
responsible for the differentiation of osteoblasts and play a role in
fracture healing and Wolff's law (i.e., a bone develops the structure
most suited to resist the forces acting on it). Laboratory
investigations show that bone formation is promoted in the neighborhood
of a cathode, that fresh fractures in animals gain strength more
quickly when electrically stimulated, that disuse osteopenia is
inhibited by electrical treatment, and that bone and cartilage cells in
culture exhibit increased DNA synthesis and other changes when
electrically stimulated (28,29,38,43,47,52,65,66,82).
These findings suggest that the functions of skeletal cells may be
selectively altered by electrical signals arising from normal loading,
fracture, or clinical intervention. This hypothesis has been tested in
numerous clinical trials involving various types of fracture nonunions.
The experiments have usually employed one of two methods
for introducing alternating electrical currents in the bone. Brighton
et al. implanted a cathode directly into the fracture site and passed
about 20 µA of electricity to a supercutaneous anode (
12
).
Bassett et al. passed electricity through a pair of wire coils disposed
on either side of the fractured limb to induce an alternating magnetic
field in the region of the fractured bone (
5
).
Magnetic fields penetrate tissues much more readily than electrical
fields, and the amount of current required is low enough to allow
battery power. The alternating magnetic field induces similarly varying
electrical fields and currents in the tissues at the fracture site.
Using these and similar methods, investigators have
generally claimed that treatment of fracture nonunions has been
substantially more dependable than more conventional methods (i.e.,
grafting). These claims have been disputed by critics who assert that
the studies have not been adequately controlled. For various reasons,
it has been difficult to do well-controlled human studies, but the
laboratory work strongly supports the theory that electrical currents
or fields modulate cell function in the skeleton. See
Table 10.1
for a summary of factors influencing fracture healing.
Table 10.1. Factors Influencing Fracture Healing
ASSESSMENT OF FRACTURE HEALING
Fracture healing is a continuing process that may
progress for several years. Although the criterion is somewhat
arbitrary, a fracture is usually considered healed when the bone can
tolerate the loads normally experienced in everyday activities.
Traditionally, healing has been determined by evidence of bridging
callus on radiographs and by stiffness across the fracture site during
clinical manipulation. These traditional measures of healing are
sufficient for the purposes of fracture management; for some
experimental studies or for careful evaluation of devices or
techniques, however, a more precise determination of the progress of
fracture healing is useful. Three general methods are currently
available.
The motion of the bone across the fracture site in
response to a known load can be measured; this is a refinement of the
clinician's subjective feel of stiffness when she manipulates the
fracture. Typically, a strain gauge attached to an external fixator is
used to measure the deflection of a tibia in response to known applied
loads (
17
,
22
). An example of fracture healing measured in this way is shown in
Figure 10.3
.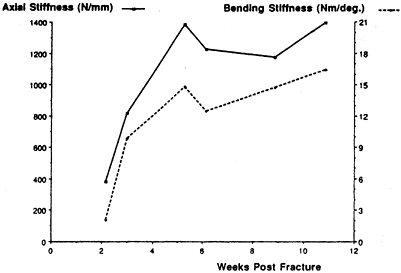 Figure 10.3.
Increase in axial stiffness (
solid line
) and bending stiffness (
dashed line
)
of a healing distal-third spiral tibia fracture as measured from an
instrumented external fixator. Threshold values of fracture stiffness
for safely removing the fixator are 1,000 newtons per millimeter (N/mm)
in axial loading (in this patient, reached at 4 weeks) and 15
newton-meters (Nm) per degree in bending (in this patient, reached at
10 weeks). (From Cunningham JL, Kenwright J, Kershaw CJ. Biomechanical
Measurement of Fracture Healing.
J Med Eng Technol
1990;14:92.)
A second technique for measuring fracture healing is to
cause the fractured bone to vibrate by tapping it with a hammer or
vibrating it with a shaker, and then measuring the resonant frequency
of the bone as a whole or the attenuation of the impulse as it crosses
the fracture site (
19
,
71
). Healing is assessed by comparison to the intact, contralateral bone.
The third method of measuring fracture healing depends
on measuring the velocity of an ultrasonic wave (from an ultrasound
unit) across the fracture site (
33
). As the
fracture heals, wave velocity increases. As with the vibrational tests,
healing is measured by comparison with the contralateral uninjured bone.
BIOLOGIC INTERVENTION IN FRACTURE HEALING
Although progress in treating fractures in the last 50
years has focused on perfecting the management of the mechanical
environment, it seems likely that future progress will emphasize the
biologic side of fracture healing. Currently, two avenues of biologic
intervention are being developed. Stimulation of osteogenesis involves
enhancement of the migration, division, differentiation, or metabolism
of cells that normally carry out fracture repair. A clinical example is
delayed primary fixation, in which surgical intervention a week or so
after the fracture may reactivate or amplify the cascade of fracture
healing (
30
,
100
).
Electrical stimulation also is presumed to enhance osteogenesis, as is
the therapeutic use of protein growth factors. Support of
osteoconduction involves the provision of a substrate or scaffold along
which osteogenic cells can migrate and on which angiogenesis and
osteogenesis can occur. Provision of osteoconductive material is
particularly important in repair of a segmental defect. Collagen is the
natural osteoconductive material, although other proteins and ceramics
are being used experimentally and clinically as osteoconductors. The
combination of an osteoconductive material with a stimulant of
osteogenesis promises to provide a very effective synthetic bone graft.
Although current clinical applications of biologic
agents are still fairly primitive, this area holds great promise for
further improvements in the regulation of fracture healing. Clinical
application of biologic agents would fulfill a prophetic remark made by
Dr. Girdlestone 70 years ago, when he foresaw the future of
orthopaedics shifting from "carpentry to gardening."
B. CLOSED TREATMENT OF FRACTURES AND DISLOCATIONS
Michael W. Chapman
REFERENCES
Each reference is categorized according to the following
scheme: *, classic article; #, review article; !, basic research
article; and +, clinical results/outcome study.
! 1.
Athenstaedt H. Pyroelectric and Piezoelectric Properties of Vertebrates.

Ann N Y Acad Sci

1974;238:68.
! 2.
Bak B, Andreassen TT. The Effect of Growth Hormone on Fracture Healing in Old Rats.

Bone

1991;12:151.
! 3.
Barron
SE, Robb BA, Taylor WF, Kelly PJ. Effect of Fixation with
Intramedullary Rods and Plates on Fracture Site Blood Flow and Bone
Remodeling in Dogs.

J Bone Joint Surg Am

1977;59:376.
# 4.
Bassett CAL. Environmental and Cellular Factors Regulating Osteogenesis. In: Frost HM, ed.

Bone Biodynamics.

Boston: Little Brown, 1964:233.
# 5.
Bassett CAL, Mitchell SN, Norton L, et al. Electromagnetic Repairs of Nonunions. In: Brighton CT, Black J, Pollack SR, eds.

fElectrical Properties of Bone and Cartilage. Experimental Effects and Clinical Applications.

New York: Grune & Stratton, 1979:605.
! 6.
Bassett CAL, Pawluk RJ, Pilla AA. Augmentation of Bone Repair by Inductively Coupled Electromagnetic Fields.

Science

1974;184:575.
! 7.
Becker RO, Murray DG. A method for Producing Cellular Dedifferentiation by Means of Very Small Electrical Currents.

Trans N Y Acad Sci

1967;29:606.
! 8.
Bidner SM, Rubins IM, Desjardins JV, et al. Evidence for Humoral Mechanism for Enhanced Osteogenesis after Head Injury.

J Bone Joint Surg Am

1990;72:1144.
! 9.
Binderman
I, Somjen D, Shimshoni Z, et al. Stimulation of Skeletal-derived Cell
Cultures by Different Electric Field Intensities Is Cell Specific.

Biochem Biophys Acta

1985;844:273.
# 10.
Bleck EE, Duckworth N, Hunter N.

Atlas of Plaster Cast Techniques, 2nd ed.

Chicago: Year Book Medical, 1974:160.
# 11.
Böhler L.

Technik der Knochenbruchbehandlungen.

Wien: Wilhelm Maudrich, 1929.
# 12.
Brighton
CT, Friedenberg ZB, Black J. Evaluation of the Use of Constant Direct
Current in the Treatment of Nonunion. In: Brighton CT, Black J, Pollack
SR, eds.

Electrical Properties of Bone and Cartilage. Experimental Effects and Clinical Applications.

New York: Grune & Stratton, 1979:519.
! 13.
Brinker MR, Lippton HL, Cook SD, Hyman AL. Pharmacological Regulation of the Circulation of Bone.

J Bone Joint Surg Am

1990;72:964.
# 14.
Browner BD, Jupiter JB, Levine AM, Trafton PG.

Skeletal Trauma.

Philadelphia: WB Saunders, 1992:1991.
* 15.
Bryant, T.

The Practice of Surgery, A Manual.

London: Churchill, 1872.
* 16.
Buck G. An Improved Method of Treating Fractures of the Thigh Illustrated by Cases and a Drawing.

Trans N Y Acad Med

1861;2:232.
! 17.
Burny F, Donkerwolcke M, Bourgois R, et al. Twenty Years' Experience in Fracture Healing Measurements with Strain Gauges.

Orthopedics

1984;7:1823.
* 18.
Charnley J.

The Closed Treatment of Common Fractures, 3rd ed.

Baltimore: Williams & Wilkins, 1963:272.
! 19.
Collier RJ, Donarski RJ. Non-invasive Method of Measuring Resonant Frequency of a Human Tibia in Vivo.

J Biomed Eng

1987;9:321.
+ 20.
Connolly
J, King P. Closed Reduction and Early Cast-Brace Ambulation in the
Treatment of Femoral Fractures. Part I: An In Vitro Quantitative
Analysis of Immobilization in Skeletal Traction and a Cast-brace.

J Bone Joint Surg Am

1973;55:1559.
# 21.
Cruess RL, Dumont J. Healing of Bone, Tendon, and Ligament. In: Rockwood CA, Green DP, eds.

Fractures.

Philadelphia: JB Lippincott, 1975:97.
! 22.
Cunningham JL, Kenwright J, Kershaw CJ. Biomechanical Measurement of Fracture Healing.

J Med Eng Technol

1990;14:92.
! 23.
Einhorn TA, Simon G, Devlin VJ, et al. The Osteogenic Response to Distant Skeletal Injury.

J Bone Joint Surg Am

1990;72:1374.
! 24.
Evans CE, Galasko CSB, Ward C. Effect of Donor Age on Growth in Vitro of Cells Obtained from Human Trabecular Bone.

J Orthop Res

1990;8:234.
! 25.
Fisher LW, Termine JD. Noncollagenous Proteins Influencing the Local Mechanisms of Calcification.

Clin Orthop

1985;200:362.
! 26.
Foldes
J, Naparstek E, Slatter M, et al. Osteogenic Response to Marrow
Aspiration: Increased Serum Osteocalcin and Alkaline Phosphatase in
Human Bone Marrow Donors.

J Bone Miner Res

1989;4:643.
* 27.
Freuler F, Wiedmer V, Bianchini D.

Cast Manual for Adults and Children.

Berlin: Springer-Verlag, 1979:248.
! 28.
Friedenberg ZB, Andrews ET, Smolenski BI, et al. Bone Reaction to Varying Amounts of Direct Current.

Surg Gynecol Obstet

1970;131:894.
! 29.
Friedenberg ZB, Zemsky LM, Pollis RP, Brighton CT. The Response of Non-traumatized Bone to Direct Current.

J Bone Joint Surg Am

1974;56:1023.
! 30.
Frost HM. The Biology of Fracture Healing.

Clin Orthop

1989;248:283.
! 31.
Gelberman RH, Mortensen WW. The Arterial Anatomy of the Talus.

Foot Ankle

1983;4:64.
! 32.
Gelberman RH, Panagis JS, Taleisnik J, Baumgaertner M. The Arterial Anatomy of the Human Carpus.

J Hand Surg [Am]

1983;8:367.
! 33.
Gerlanc M, Haddad D, Hyatt GW, et al. Ultrasonic Study of Normal and Fracture Bone.

Clin Orthop

1975;111:175.
! 34.
Goodship JE, Kenwright J. The Influence of Induced Micromovement upon the Healing of Experimental Tibial Fractures.

J Bone Joint Surg Br

1985;67:650.
! 35.
Grodzinsky AJ. Electromechanical and Physicochemical Properties of Connective Tissues.

Crit Rev Bioeng

1983;9:133.
! 36.
Gupta RC, Gupta SC, Gupta KK. Experimental Study on Osseous Phlebography and Fracture Healing.

Indian J Med Res

1980;72:293.
+ 37.
Hardy
AE. The Treatment of Femoral Fractures by Cast-Brace Application and
Early Ambulation. A Prospective Review of 106 Patients.

J Bone Joint Surg Am

1983;65:56.
! 38.
Hassler CR, Rybicki EF, Diegle RB, Clark LC. Studies of Enhanced Bone Healing via Electrical Stimuli.

Clin Orthop

1977;124:9.
* 39.
Hodgen JT. On the Treatment of Gunshot Fractures of the Femur and Tibia.

Am Med Times

1863;7:169.
! 40.
Jacobs RL, Ray RD. The Effect of Heat on Bone Healing.

Arch Surg

1972;104:687.
* 41.
Kirschner M. Ueber Negelextension.

Beitr Klin Chir

1909;64:266.
* 42.
Kirschner M. Verbesserungen der Drahtextension.

Arch Klin Chir

1927;148:651.
! 43.
Korenstein R, Somjen D, Fischler HK, Binderman I. Capacitative Pulsed Electrical Stimulation of Bone Cells.

Biochem Biophys Acta

1984;803:302.
* 44.
Kuntscher G.

The Callus-Problem.

Altner PC, trans. St. Louis, MO: Warren H. Green, 1974:146.
! 45.
Lanyon LE, Rubin CT. Static Versus Dynamic Loads as an Influence on Bone Remodeling.

J Biomech

1974;17:897.
+ 46.
Lesin B, Mooney V, Ashby M. Cast-Bracing for Fractures of the Femur. A Preliminary Report of a Modified Device.

J Bone Joint Surg Am

1977;59:917.
! 47.
Levy DD, Rubin B. Inducing Bone Growth in Vivo by Pulse Stimulation.

Clin Orthop

1972;88:218.
* 48.
Luck JV. Plaster of Paris Casts: An Experimental and Clinical Analysis.

JAMA

1944;124:23.
* 49. Malgaigne JF. Recherches
Historiques et Pratiques sur les Appareils Employés dans le Traitement
des Fractures en Général Depuis Hippocrate jusqu'à Nos Jours. Paris: H. Cousin, 1841.
# 50.
Martin RB, Burr DB.

The Structure, Function, and Adaptation of Compact Bone.

New York: Raven Press, 1989.
* 51.
Mayor ML.

Mémoire sur L'Hyponarthecie ou sur le Traitement des Fractures par la Planchette.

Geneva, 1827.
! 52.
McElhaney JH, Stalnaker R, Bullard R. Electric Fields and Bone Loss of Disuse.

J Biomech

1968;1:47.
! 53.
McKibbin B. The Biology of Fracture Healing in Long Bones.

J Bone Joint Surg Br

1978;60:150.
! 54.
Meadows TH, Bronk JT, Chao YS, Kelley PJ. Effect of Weight-bearing on Healing of Cortical Defects in the Canine Tibia.

J Bone Joint Surg Am

1990;72:1074.
+ 55.
Meggitt BF, Juett DA, Smith JD. Cast-Bracing for Fractures of the Femoral Shaft: A Biomechanical and Clinical Study.

J Bone Joint Surg Br

1981;63:12.
! 56.
Meller
Y, Kestenbaum RS, Galinsky D, Shany S. Seasonal Variation in Serum
Levels of Vitamin D Metabolites and Parathormone in Geriatric Patients
with Fractures in Southern Israel.

Isr J Med Sci

1986;22:8.
! 57.
Meller
Y, Kestenbaum RS, Schany S, et al. Parathormone, Calcitonin, and
Vitamin D Metabolites During Normal Fracture Healing in Geriatric
Patients.

Clin Orthop

1985;199:272.
+ 58.
Melvor J, Ross P, Landry G, Davis L. Treatment of Femoral Fractures with the Cast-brace.

Can J Surg

1984;27:592.
! 59.
Mizuno K, Mineo K, Tachibana T, et al. The Osteogenic Potential of Fracture Hematoma.

J Bone Joint Surg Br

1990;72:822.
+ 60.
Montgomery S, Mooney V. Femur Fractures: Treatment with Roller Traction and Early Ambulation.

Clin Orthop

1981;156:196.
+ 61.
Mooney V. Cast Bracing.

Clin Orthop

1974;102:159.
+ 62.
Mooney V, Nickel V, Harvey J, Svelson R. Cast-Brace Treatment for Fractures of the Distal Part of the Femur.

J Bone Joint Surg Am

1970;52:1563.
! 63.
Mostafa
AGSA, El Attar S, Mili F, Wright EA. The Effect of Environmental
Temperature on the Rate of Healing of Fractures in Tail Vertebrae of
Mice.

J Bone Joint Surg Br

1980;62:102.
* 64. Nifong FG. The
Hodgen Wire Cradle Extension Suspension Splint: The Exemplification of
This Splint with Other Helpful Appliances in the Treatment of Fractures
and Wounds of the Extremities and Its Application in Both Civil War and
Practice. St. Louis, MO: CV Mosby, 1918.
! 65.
Norton LA. Effects of a Pulsed Electromagnetic Field on a Mixed Chondroblastic Tissue Culture.

Clin Orthop

1982;167:280.
# 66.
Norton
LA, Bourret LA, Rodan GA. Molecular Changes in Hard Tissue Cells in
Response to Bioelectric Proliferative Signals. In: Becker RO, ed.

Mechanism of Growth Control.

Springfield, IL: Charles C. Thomas, 1981:180.
! 67.
Otter
MW, Palmieri VR, Cochran GVB. Transcortical Streaming Potentials Are
Generated by Circulatory Pressure Gradients in Living Canine Tibia.

J Orthop Res

1990;8:119.
! 68.
Paradis GR, Kelley PJ. Blood Flow and Mineral Deposition in Canine Tibial Fractures.

J Bone Joint Surg Am

1975;57:220.
* 69.
Pearson MG, Drummond J.

Fractured Femurs: Their Treatment by Caliper Extensions.

London: Oxford University Press, 1919.
* 70.
Peltier LF. A Brief History of Traction.

J Bone Joint Surg Am

1968;50:1603.
! 71.
Peltier RR, Saha S. Wave Propagation across a Bony Discontinuity Simulating a Healing Fracture.

J Biomech

1985;18:745.
! 72.
Perren SM. Physical and Biological Aspects of Fracture Healing with Special Reference to Internal Fixation.

Clin Orthop

1979;138:175.
! 73.
Perren SM, Cordey J, Rahn BA, et al. Early Temporary Porosis of Bone Induced by Internal Fixation Implants.

Clin Orthop

1988;232:139.
+ 74.
Puranen J, Kaski P. The Clinical Significance of Osteomedullography in Fractures of the Tibial Shaft.

J Bone Joint Surg Am

1974;56:759.
* 75.
Rahn BA, Gallinaro P, Baltensperger A, Perren SM. Primary Bone Healing: An Experimental Study in the Rabbit.

J Bone Joint Surg Am

1971;53:783.
* 76.
Rhinelander FW. The Normal Microcirculation of Diaphyseal Cortex and Its Response to Fracture.

J Bone Joint Surg Am

1968;50:784.
* 77.
Rhinelander FW. Effects of Medullary Nailing on the Normal Blood Supply of the Diaphyseal Cortex.

Instr Course Lect

1973;22:161.
+ 78.
Rhinelander FW. Tibial Blood Supply in Relation to Fracture Healing.

Clin Orthop

1974;105:35.
! 79.
Richards
RR, Schemitsch EH. Effect of Muscle Flap Coverage on Bone Blood Flow
Following Devascularization of a Segment of Tibia.

J Orthop Res

1989;7:550.
# 80.
Rockwood CA Jr, Green DP, Bucholz RW, eds.

Fractures in Adults, 3rd ed.

Philadelphia: JB Lippincott, 1991:2182.
# 81.
Rockwood CA Jr, Wilkins KE, King RE, eds.

Fractures in Children.

Philadelphia: JB Lippincott, 1991:1500.
! 82.
Rodan GA, Bourret LA, Norton LA. DNA Synthesis in Cartilage Cells is Stimulated by Oscillating Electric Fields.

Science

1978;199:690.
* 83.
Russell RH. Theory and Method on Extension of the Thigh.

Br Med J

1921;2:637.
* 84.
Sarmiento A. A Functional Below-the-Knee Cast for Tibial Fractures.

J Bone Joint Surg Am

1967;49:855.
* 85.
Sauter JN.

Answeisung, die Beinbrüche der Gleidmassen.

Konstanz: 1812.
*86.
Schenk R, Willenegger H. Histologie der Primaren Knochenheilung.

Arch Klin Chir

1963;19:593.
! 87.
Seliger WG. Tissue Fluid Movement in Compact Bone.

Anat Rec

1970;166:247.
* 88.
Smith N. Observations on Fractures of the Femur with an Account of a New Splint; and Addenda. In: Smith NR, ed.

Medical and Surgical Memoirs.

Baltimore: William A. Francis, 1831.
* 89.
Smith NR. A New Instrument for the Treatment of Fractures of the Lower Extremity.

Maryland Virginia Med Surg J

1860;14:1.
* 90.
Smith NR.

Treatment of Fractures of the Lower Extremity by Use of the Anterior Suspensory Apparatus.

Baltimore: Kelly & Piet, 1867.
* 91.
Steinmann FR. Eine Neue Extensionsmethode in der Frakturenbehandlung.

Zentralbl Chir

1907;34:938.
! 92.
Terjesen T, Apalset K. The Influence of Different Degrees of Stiffness of Fixation Plates on Experimental Bone Healing.

J Orthop Res

1988;6:293.
* 93.
Thomas HO.

The Treatment of Deformities, Fractures and Diseases of Bones in the Lower Extremities.

London: HK Lewis, 1890.
! 94.
Trueta J. The Role of the Vessels in Osteogenesis.

J Bone Joint Surg Br

1963;45:402.
! 95.
Trueta J. Blood Supply and the Rate of Healing of Tibial Fractures.

Clin Orthop

1974;105:11.
# 96.
Uhthoff HK. Fracture Healing. In: Gustilo RB, Kyle RF, Templeman DC, eds.

Fractures and Dislocations,

St. Louis, MO: Mosby, 1993:45.
! 97.
Uhthoff
HK, Bardos DI, Liskova-Kiar M. The Advantages of Titanium Alloy over
Stainless Steel Plates for the Internal Fixation of Fractures.

J Bone Joint Surg Br

1981;63:427.
# 98.
Watson-Jones R.

Fractures and Joint Injuries, 4th ed.

Baltimore: Williams & Wilkins, 1962:1073.
! 99.
White AA III, Panjabi MM, Southwick WO. The Four Biomechanical Stages of Fracture Healing.

J Bone Joint Surg Am

1977;59:188.
+ 100.
Wilber MC, Evans EB. Fractures of the Femoral Shaft Treated Surgically.

J Bone Joint Surg Am

1978;60:489.
! 101.
Woo SL-Y, Lothringer K, Akeson WH, et al. Less Rigid Internal Fixation Plates: Historical Perspectives and New Concepts.

J Orthop Res

1984;1:431.