SPINAL SURGERY FOR MYELO MENINGOCELE
Editors:
Chapman, Michael W.
Title:
Chapman's Orthopaedic Surgery, 3rd Edition
Copyright ©2001 Lippincott Williams & Wilkins
> Table of Contents > SECTION
VIII – THE SPINE > Spinal Deformity > CHAPTER 157 – SPINAL
SURGERY FOR MYELO MENINGOCELE
CHAPTER 157
SPINAL SURGERY FOR MYELO MENINGOCELE
Thomas E. Kuivila
T. E. Kuivila:
Department of Orthopaedic Surgery, The Cleveland Clinic Foundation, Cleveland, Ohio 44195.
Myelomeningocele is a serious and complex congenital
abnormality associated with a host of problems that cross several
disciplines of medicine and rehabilitation. Of the problems presenting
to pediatric orthopaedic surgeons, none is as daunting, complex, and
fraught with pitfalls as the management of the associated spinal
deformities. In addition to the kyphotic, lordotic, or scoliotic
deformities typically faced by spinal-deformity surgeons, patients with
myelomeningocele bring the added challenge of a markedly abnormal
anatomy marked by the absence of a significant portion of the posterior
spinal elements. Additionally, these structures are frequently smaller,
the bone is more osteopenic, the skin, muscle, and fascia available for
coverage of hardware are frequently poor, and significant additional
medical problems frequently coexist (
13
). A
solid grounding in the treatment of idiopathic spinal deformities is
therefore a prerequisite to embarking on the management of patients
with myelomeningocele (
6
,
34
).
Orthopaedic care for patients with spina bifida should
not exist in a vacuum. More than perhaps any other condition with which
orthopaedists are concerned, myelomeningocele should be managed by a
team of pediatric specialists. In addition to an orthopaedic surgeon, a
pediatric neurosurgeon, a urologist, a neurologist, and a physiatrist
must be allied with a health care team consisting of occupational and
physical therapy, social workers, and nutritionists. As patient demands
on each of these individuals is fairly high, most major pediatric
centers employ specialty clinics, where the specialists convene on
individual patients, rather than each specialist seeing patients
individually. Once thought to be a chronic and stable condition,
myelomeningocele is now known to be condition that changes throughout
life (
8
). It is therefore necessary for patients to be followed well into their adult years.
PATHOPHYSIOLOGY
The mechanism by which myelomeningocele occurs
embryologically is unknown. Two major theories exist, and both have
their proponents. Von Recklinghausen, who initially described the
condition, felt that the abnormality was due to a failure of closure of
the neural canal. The opposing theory is that a closed neural tube
ruptures, exposing the neural elements (
16
). This theory was initially advanced by Morgagni (
33
).
A long discussion of the points that make both theories at least
histologically plausible is beyond the scope of this chapter; suffice
it to say that a certain modicum of evidence exists for both
viewpoints. The abnormality resulting in the formation of a
myelomeningocele occurs very early in gestation—most likely at the
third to fourth week after conception. In many cases, the defect is
present before a woman recognizes that she is pregnant.
While there is no agreement on the embryologic process
that causes the formation of a myelomeningocele, many risk factors have
been identified that markedly increase the incidence of this birth
defect. Use of the the antiseizure medication valproic acid (Depakene)
during pregnancy has been demonstrated to markedly increase the risk of
myelomeningocele (
9
). As valproic acid can alter serum folate levels, this adds credence to the work of Yates et al. (
45
),
who showed an association between the incidence of neural tube defects
and depressed red cell folate levels. In their study, the diminished
folate levels could not be entirely attributed to decreased dietary
intake, suggesting that an inborn error of folate metabolism existed.
This study was subsequently supported by Seller and Nevin (
40
),
who noted a decreased incidence of myelomeningocele and other neural
tube defects when adequate vitamin and folate supplementation began
before conception. These studies led to the general dietary
recommendation that all women of childbearing age consume a minimum of
1.0 µg of folic acid daily (
9
). Many foods are being supplemented with folic acid in direct response to this work.
The gold standard for the prenatal diagnosis of
myelomeningocele remains the amniotic fluid level of alpha-fetoprotein
(AFP) obtained through amniocentesis. A high concentration of AFP
within the amniotic fluid, which is usually sequestered within the
cerebrospinal fluid (CSF) of the fetus, is pathognomonic for an open or
otherwise compromised neural canal. Most centers continue to use serum
AFP levels to screen expectant mothers. While high AFP concentrations
have a relatively high correlation with neural tube defects, the
sensitivity and specificity of this test is only about 80% (
1
).
Prenatal diagnosis is most useful because it is important to plan for
delivery at a tertiary care facility, where neurosurgical and
neurosurgical intensive care unit support is available; it is also
important because it is believed that elective cesarean section may
result in neural function at one to two levels higher than otherwise.
PRINCIPLES OF TREATMENT
The management of a child born with myelomeningocele
begins with closure of the defect, typically by a neurosurgeon, within
the first 12–24 hours of life. Without treatment, such children will
typically die. Several series of untreated children reported in the
1970s demonstrated mortality rates in the range of 90% to 100% (
20
,
23
).
The cause of death in untreated infants is bacterial
meningoventriculitis. Those who survive meningoventriculitis have
higher levels of paralysis, more profound mental retardation, and
frequently uncontrolled hydrocephalus, leading to additional problems.
Therapeutic nihilism was frequently practiced in the United States 40
years ago because of the difficulty in treating many of the sequelae of
myelomeningocele. However, with advances in orthopaedic, neurologic,
and urologic care, myelomeningocele is very treatable. It has therefore
become the standard of care in the United States to perform early sac
closure and ventriculoperitoneal shunting in infants with
myelomeningocele.
Positioning of the patient after sac closure is very
important to protect the fragile soft tissues overlying the repair.
Additionally, this period of prone recumbency is advantageous in
positioning the hips to avoid subluxation or dislocation.
It is possible, though unusual, for a neurosurgeon to
require the services of an orthopaedist when performing the initial
shunt closure. Occasionally, the child will be born with a severe
gibbous deformity that will necessitate a two- to three-level
kyphectomy to facilitate closure.
PATIENT ASSESSMENT
As with the management of any spinal deformity, take a
careful history and perform a thorough physical examination. Do not
immediately focus on the spinal deformity. It is important relative to
surgical indications, as well as other prognostic factors, to know
about the general health of the child. Inquire about the patient's
mental functioning, school attendance, and level of socialization, as
well as the activities of daily living that the patient is able to
perform. The presence or absence of hydrocephalus or a shunt is
prognostic relative to overall intellectual function (
Fig. 157.1
) (
18
). Inquire about the patient's urologic status and bowel function. Knowledge of the status of these


matters is yet another reason why a multidisciplinary clinic is so
valuable. Finally, it is important to have a good understanding of
parents' perceptions and patients' needs, desires, and expectations
regarding eventual ambulation and the use of ambulatory aids.
Figure 157.1.
Average I.Q. as a function of shunt presence in patients with myelomeningocele.
As far as the spine is concerned, determine the level of
neurologic function, the perception of patients and caregivers
regarding spinal curvature progression, and any symptoms or problems
directly related to the curve, including pain, skin breakdown, loss of
balance, difficulty with breathing, or changes in gastrointestinal (GI)
or genitourinary (GU) function. It is also important to inquire about
previous trials of bracing and spinal surgery.
An increasingly common finding in patients with
myelomeningocele is sensitivity to latex. It is mandatory to ask a
dermatologist to test patients for latex allergy in the preoperative
period. Use a latex-free protocol in surgery and in the postoperative
period, even with nonallergic patients. Allergic reactions to latex
have become a significant health problem for patients and health care
professionals over the last 5 years. It is believed that 50% of spina
bifida patients in the United States have evidence of severe allergy to
latex. As many as 5% to 10% of myelomeningocele patients may have a
potentially life-threatening form of this allergy (
3
,
11
).
The allergen causing the hypersensitivity response is a component of
the latex substance itself, and therefore only strict avoidance of
latex contact is effective (
42
). Immediate
hypersensitivity reactions to latex have been reported through several
different routes of exposure. Deaths have been reported after mucous
membrane exposure and infusion through latex-containing intravenous
lines (
3
,
11
).
Intraoperative anaphylactic reactions have been reported simply after
the opening of latex gloves in the operating suite. It is believed that
patients with myelodysplasia are at increased risk for latex allergy
due to the multiple contacts that they have had with the substance (
11
), although some feel that there is a yet unknown reason for their proclivity to an allergic response.
As improved non-latex-containing operative and patient
care materials become available, inadvertent exposure to latex will
become less and less common. The Joint Commission for the Accreditation
of Hospital and Healthcare Organizations currently requires that all
patients be asked specifically about a history of latex sensitivity at
their initial outpatient or inpatient visit. All hospitals should have
policies and procedures in place regarding bed assignment and room
preparation and strict protocols for direct patient care activities in
a nonlatex environment. It behooves the surgeon and operative team,
however, to doubly reinforce this concept in the operating room and
with the ancillary staff.
Next, perform a detailed physical examination. Examine
the extremities, paying special attention to the neurologic
examination. Whereas the lower extremities are typically the sites of
major neurologic compromise, conditions

such
as hydromyelia or syringomyelia may also compromise strength and
sensation in the upper extremities. Careful neurologic examination to
identify the specific level of neurologic involvement is important as a
predictor of both ambulatory ability and the likelihood of curve
progression (Fig. 157.2).
It must be kept in mind that the neurologic pattern may differ from one
extremity to the other, even (in rare cases) nearly to the point of
having one normal extremity and near-total paralysis of the other
extremity, a condition known as hemimyelodysplasia (29).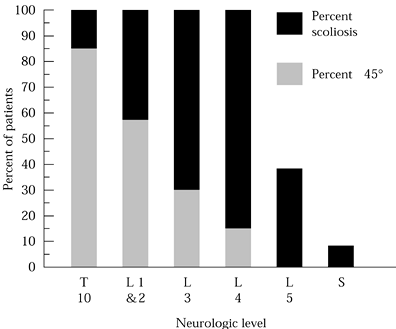 Figure 157.2.
The incidence and the severity of scoliosis depend on the level of neurologic compromise.
In addition to observing the general curvature of the
spine (lordosis, kyphosis, scoliosis), examine the spine to assess
flexibility and balance. Additionally, assess the quality and the
condition of the skin throughout the torso. This is important not only
for wound coverage and closure but also for any postoperative casting
or bracing that may be anticipated. While radiographic studies will
convey a good deal of information regarding the underlying bony
structure, careful and thorough palpation of the spine for the presence
or absence of bony elements can immeasurably add to one's understanding
of the deformity.
RADIOLOGIC EVALUATION
Plain radiographs, preferably standing or sitting in the
posteroanterior (PA) and lateral projections and supine bending films,
are essential for preoperative planning. Magnetic resonance imaging
(MRI) of the spine, as well as spiral computed tomography (CT) with
three-dimensional (3D) reconstruction, adds to one's ability to
understand the nuances of the curve, note congenital elements and
dysplastic features, and undertake rigorous preoperative planning.
There is no aspect of spinal surgery where the adage "failure to plan
is a plan for failure" better applies than in myelosurgery.
Ultrasound may be useful in the very immature, minimally
ossified spine and in areas where there is no bone overlying the neural
elements. For the most part, myelography has been replaced by MRI.
PRINCIPLES AND INDICATIONS FOR SURGICAL TREATMENT
The orthopaedic management of myelomeningocele centers around three major goals:
To maximize patients' abilities and maintain the stability and range of motion of the spine and extremities
To provide for locomotion either by wheelchair or by
ambulation with or without braces and orthotics, depending on the level
of neurologic involvement
To prevent deterioration of neurologic function
As previously noted, myelomeningocele is a condition in
which neurologic change can be expected. The observation of diminished
extremity function frequently leads to the diagnosis of subtle
neurologic deterioration.
The specific goal in the management of the myelomeningocele spinal deformity is to maintain or achieve a well balanced spine (
Fig. 157.3
). Spinal balance is important for compensated sitting, as well as standing. A well supported spine (
12
) allows free use of the upper extremities,


and balanced seating pressure diminishes the likelihood of skin breakdown in insensate areas.
Figure 157.3.
A:
A 13-year-old boy with a thoracic-level myelomeningocele. He had a
severe, progressive right thoracolumbar paralytic curve of 84° and
significant pelvic obliquity of 21°. Staged anterior and posterior
procedures 1 week apart were necessary to correct the rigid spinal
deformity and pelvic obliquity. The combination of an anterior Zielke
procedure followed by posterior instrumentation and fusion with a Luque
rod with Galveston pelvic fixation provided adequate correction of his
deformities
(B)
.
As with any spinal deformity, the three options for
management include observation, bracing, and surgery. However, unlike
idiopathic adolescent spinal deformities, there is no "routine"
management for the myelodysplastic spine. Patient size and age, level
of curve involvement, coexisting hemivertebrae, and wildly variant
anatomy make a highly individualized treatment plan mandatory. However,
certain rules do apply and are useful to bear in mind.
Because of coexistent muscle paralysis, scoliosis in
patients with spina bifida tends to progress faster and more
relentlessly than in idiopathic scoliosis. When scoliosis is simply
being observed, this option is generally chosen not so much because of
the low-level magnitude of the curve but because the patient either may
not be of appropriate size for definitive surgery or may have a curve
that is not amenable to orthotic management.
Orthotic treatment of scoliosis should be considered a
temporary measure, intended to allow further spinal growth and patient
maturation before definitive operative management. Many potential
problems exist with bracing the paralytic spine. First, the brace
exerts pressure on insensate or sensory-impaired skin, which can result
in decubitus ulcers, particularly over the bony prominences of the
spine and the edges of the rib cage and pelvis. Second, the degree of
compression necessary to maintain control of the curve will frequently
compromise an already restricted pulmonary capacity and definitely
impair an already compromised ability to be mobile. Any orthotic must
be custom-made and requires very careful fitting and supervised wear.
Insensate skin can break down very quickly, and children must be
introduced to the orthotic slowly, beginning with 1 hour at a time.
Inspect the skin carefully after removal of the orthosis. Increase the
wearing time slowly over 3–4 weeks until the patient is wearing it
throughout the waking hours. Remember that night- and nap-time brace
wear is not as beneficial in slowing the progression in the paralytic
spine as it is in the idiopathic spine.
Although spinal deformities develop in 75% of children with spina bifida (
7
), most are not present at birth. Deformities usually appear by age 5 years and, in most cases,


are fully developed by 10 years of age (25,37).
Congenital deformities (unsegmented bars and hemivertebrae, and
combinations thereof) can coexist. These will be noted at birth and
tend to require surgery at an earlier age than the paralytic deformity (2).
Despite the high percentage of spinal deformities, one cannot be
complacent regarding the exact cause of any given curve. As in any
spinal deformity, investigation is necessary to determine whether there
is an underlying correctable cause for the disorder, and therefore MRI
and CT are useful in evaluating the spine for hydromyelia, a tethered
spinal cord, or ventricular porencephaly, which can contribute to the
deformity (8).
SURGICAL GOALS
The goal of surgery is to provide a stable, well
balanced spine with the head centered over a nonoblique pelvis,
allowing good balance and affording patients the use of both hands.
Those with collapsing deformities, who must push up with their hands to
support themselves or to maintain good pulmonary or GI function, are
severely hindered in their ability to perform activities of daily
living (
27
).
SURGICAL DECISION MAKING
As a general rule, curves that progress beyond 50°
require surgery. It is assumed that most children with
myelomeningocele, who will eventually require spinal surgery, will have
curves greater than 50° well before skeletal maturity. Whereas it is
preferable to wait until age 10–12 years for instrumented fusion, one
will occasionally need to intervene at an earlier age to prevent
irretrievable progression. As with surgery for other medically
"delicate" patients, such as those with muscular dystrophy,
optimization of general medical health at the time of surgery is
important. Before surgery, any hydrocephalus should be well controlled,
and shunts, if in place, should function normally. Ideally, the urinary
tract should be free of any obstruction, ureteral reflux managed, and
the urine sterile. In many cases, of course, obtaining sterile urine is
temporary at best, and in these instances, the known colonizing
bacteria should be suppressed with appropriate antibiotic prophylaxis.
Failure to control bacteria in the urinary tract can lead to an
inordinately high infection rate (
2
). Finally,
the condition of the skin generally and in the operative area, in
particular, must be at its best. Whenever the potential for the
introduction of infection into the fusion through skin contaminants is
high, it is advisable to do appropriate plastic surgical reconstruction
first. This will often require tissue expansion, midline scar excision,
and closure. After the new area is well healed, definitive spinal
surgery can then proceed with less risk of infection.
PREOPERATIVE PLANNING AND MANAGEMENT
POSTOPERATIVE CARE AND REHABILITATION
Scoliosis correction and kyphectomy are extensive
operations in children with multiple medical problems. Blood loss can
be high, anesthesia times are long, and a postoperative pediatric
intensive care unit is therefore mandatory. Many patients will remain
intubated for 24 hours, and some will require short-term ventilatory
support. Aggressive blood replacement therapy is indicated, and good
urinary output must be maintained. As these patients are at higher risk
for postoperative infection, maintain a longer period of prophylactic
antibiotic therapy (often 5–7 days after surgery), and at the very
least prescribe one dose beyond the point when all drains and central
lines are removed. Use an aminoglycoside together with a cephalosporin
to adequately cover the gram-negative organisms associated with chronic
GU tract colonization and infection.
Other authors have advocated the use of total parenteral
nutrition for patients undergoing staged procedures whose nutritional
status is poor. This is certainly an option if the anterior–posterior
fusion cannot be accomplished under one anesthetic. While monitoring of
somatosensory-evoked potentials is typically not used intraoperatively,
postoperative clinical neurologic monitoring is extremely important,
especially in patients who have a history of hydrocephalus and a
working shunt.
After patients have been medically stabilized, it is
imperative to mobilize them as quickly as possible. However, do not
place a patient in a sitting or standing position until the custom
orthosis is available. A good relationship with the orthotist will
facilitate obtaining a brace with 24° to 48° postoperatively. Early
mobilization helps prevent muscle atrophy and acute postoperative
osteopenia. There is typically no reason or indication for prolonged
bed rest after surgery.
Physical skills, which these patients have slowly
gained, are rapidly lost after surgery, and physical therapy is
exceedingly important to regaining their preoperative level of
function. Whereas the surgery should improve sitting and standing
balance, there is definitely a risk for marginal ambulators to become
wheelchair-bound, particularly after fusion to the pelvis. This
functional loss frequently occurs in patients with myelomeningocele in
the early teenage years, but this possibility or eventuality should be
discussed and well understood by patients and families before the
surgical procedure. As socialization of these patients is of high
importance as well, they should be allowed to return to their school
setting as soon as they are ready—usually at about 4 weeks after
surgery.

PITFALLS AND COMPLICATIONS
The surgical management of spinal deformity in
myelodysplasia is difficult because of the severity of the deformity,
the abnormal anatomy, and the multiple medical problems with which
patients present. The first caveat therefore regarding this sort of
spine surgery is that it is not for the casual spinal surgeon. Even in
the best of hands, the postoperative complication rate is high. Without
an experienced surgical team and an experienced surgeon in charge, the
results can be disastrous.
Whereas any spinal deformity in any patient should be
approached on an individual case-by-case basis, patients with
myelomeningocele, perhaps even more so, cannot be treated in
assembly-line or cookbook fashion. While the newer instrumentation may
make it somewhat less necessary to combine anterior with posterior
fusion, one must be careful not to neglect to perform both when both
are necessary. It can be difficult to achieve a good, solid fusion if
the posterior elements do not lend themselves to good bone-rod fixation
or the exposed areas are too sparse to achieve a good fusion mass.
As these procedures are not cookbook in their design,
the surgeon must be willing and able to compromise, devise, create, and
improvise intraoperatively. Routine surgery always needs a flexible
plan. Surgery of this nature requires not only plans A and B but plans
C, D, and E, as well.
One of the most common technical errors is to attempt to preserve distal-lumbar motion segments and to "fuse too short" (
6
). Whereas maintaining lumbar motion is


desirable in virtually any other spinal surgery, it is a significant
mistake to leave the L5-S1 junction mobile in the paralytic spine. Not
only will this area degenerate and cause pain over time in some
patients, but it will almost certainly be unstable and can result in a
junctional kyphosis or hyperlordosis in the paralytic spine. Similarly,
stopping the fusion too short proximally can allow the upper portion of
the thoracic spine to develop forward kyphosis, which will cause
postural difficulties.
Never perform a unilateral fusion. The amount of bone
stock present is rarely sufficient to provide significant stability by
fusion of only one side of the spine.
Infection, the second most common postoperative complication, rears its ugly head in up to 25% of cases (
34
).
As previously noted, prophylaxis with two antibiotics is considered the
standard of care. It is very difficult to achieve true urine sterility
in most patients, but if the organisms can be suppressed to the
colonization level, postoperative sepsis secondary to GU contamination
is less likely. Infection secondary to hematoma and dead-space and
wound breakdown secondary to poor skin is best addressed
preoperatively, as previously noted. The two best options for
preventing deep infection because of skin problems include using an
inverted-
Y
incision or doing a two-stage tissue expansion, as previously outlined.
Pseudarthrosis has been a common problem in the past.
With the availability of bank bone graft and bone-graft extenders, the
pseudarthrosis rate should decline in future studies. However, it is
important to realize that bone must fuse to bone and therefore
meticulous preparation of the bone graft bed is a requirement.
Instrumentation failure is also a common problem both
intraoperatively and in the early postoperative period. Its cause is
rarely metal breakage, but rather rod, hook, or wire pull-out from
osteopenic bone. Addressing calcium balance and osteopenia
preoperatively can be of use. One must be careful about being overly
aggressive in tightening wires and distracting hooks. Despite adequate
segmental fixation, the postoperative brace is still key in the
postoperative management. Late instrumentation failure (wire or rod
breakage) must be considered a pseudarthrosis until proven otherwise.
Again, meticulous attention to bone grafting technique will minimize
the pseudarthrosis rate.
Sometimes, even when the most extreme care has been
exercised in providing postoperative hardware coverage, a sore will
form over a prominent portion of the hardware. Once this covering is
violated to the point where the metal is observable from the outside,
securing a sterile environment is virtually impossible until all metal
has been removed. If the wound becomes colonized and infected,
significant long-term complications can ensue, resulting in
difficult-to-treat chronic deep infections. If spinal osteomyelitis
occurs, I have used debridement, long-term parenteral antibiotics,
free-flap coverage to provide improved blood supply, and even
hyperbaric oxygen to manage this most difficult problem.
REFERENCES
Each reference is categorized according to the following
scheme: *, classic article; #, review article; !, basic research
article; and +, clinical results/outcome study.
+ 1.
Alan LD, Donald I, Gibson AA, et al. Amniotic Fluid Alpha-fetoprotein in the Antenatal Diagnosis of Spina Bifida.

Lancet

1973;2:522.
# 2.
Allen B, Ferguson R. Operative Treatment of Myelomeningocoele Spinal Deformities.

Orthop Clin North Am

1979;10:845.
+ 3.
American Academy of Allergy and Immunology: Task Force Report on Allergic Reactions to Latex.

J Allergy Clin Immunol

1993;92:16.
+ 4.
Banta
J, Park SM. Improvement in Pulmonary Function in Patients Having
Combined Anterior and Posterior Spine Fusion for Myelomeningocoele
Scoliosis.

Spine

1983;8:766.
+ 5.
Banta JV, Hamanda JS. Natural History of the Kyphotic Deformity in Myelomeningocele.

J Bone Joint Surg Am

1976;58:279.
# 6.
Bradford DS, Lonstein JE, Moe JH, et al.

Moe's Textbook of Scoliosis and Other Spinal Deformities,

3rd ed. Philadelphia: WB Saunders, 1995.
# 7.
Brown HP. Management of Spinal Deformity in Myelomeningocele.

Orthop Clin North Am

1978;9:391.
+ 8.
Bunch WH, Sharff TB, Dvonch VM. Progressive Neurological Loss in Myelomeningocele Patients.

Orthop Trans

1983;7:185.
+ 9.
Centers
for Disease Control and Prevention. Recommendations for the Use of
Folic Acid to Reduce the Number of Cases of Spina Bifida and Other
Neural Tube Defects.

MMWR

1992;41(RR-14):1.
+ 10.
Dickens DVR. The Surgery of Scoliosis and Spina Bifida.

J Bone Joint Surg Br

1979;61:386.
# 11.
Dormans JP, Templeton JJ, Edmonds Cl, et al. Intraoperative Anaphylaxis Due to Exposure to Latex (Natural Rubber) in Children.

J Bone Joint Surg Am

1994;76:1688.
! 12.
Drennan JC. The Role of Muscles in the Development of Human Lumbar Kyphosis.

Dev Med Child Neurol

1970;12:33.
+ 13.
Drummond
DS, Moreau M, Cruess RL. The Results and Complications of Surgery for
the Paralytic Hip and Spine in Myelomeningocoele.

J Bone Joint Surg Br

1980;62:49.
+ 14.
Dunn HK. Kyphosis of Myelodysplasia: Operative Treatment Based on Physiology.

Orthop Trans

1983;7:19.
* 15.
Dwyer AF, Newton MD, Sherwood AA. An Anterior Approach to Scoliosis.

Clin Orthop

1969;62:192.
+ 16.
Gardner WJ. Myelocele: Rupture of the Neural Tube?

Clin Neurosurg

1968;15:57.
# 17.
Hack HP, Zielke K, Harms J. Spinal Instrumentation and Monitoring. In: Bradford DS, Hensinger RM, eds.

The Pediatric Spine.

New York: Thieme, 1985.
+ 18.
Hall
PV, Lindseth RE, Campbell RL, et al. Scoliosis and Hydrocephalus in
Myelocele Patients: The Effects of Ventricular Shunting.

J Neurosurg

1979;50:174.
+ 19.
Heydemann
JS, Gillespie R. Management of Myelomeningocele Kyphosis in the Older
Child by Kyphectomy and Segmental Spinal Instrumentation.

Spine

1987;12:37.
+ 20.
Hide
DW, Williams HP, Ellis HL. The Outlook for the Child with a
Myelomeningocele for Whom Early Surgery was Considered Inadvisable.

Dev Med Child Neruol

1972;14:304.
+ 21.
Hull WJ, Moe JH, Winter RB. Spinal Deformity in Myelomeningocoele: Natural History, Evaluation, and Treatment.

J Bone Joint Surg Am

1974;56:1767.
+ 22.
Lindseth RE, Slezer L. Vertebral Excision for Kyphosis in Children with Myelomeningocele.

J Bone Joint Surg Am

1979;61:699.
+ 23.
Lorber J. Selective Treatment of Myelomeningocele: To Treat or Not to Treat?

Pediatrics

1974;53:307.
+ 24. Matan
AJ, Smith JT, Dunn HK. Risk Factors Associated with Anterior Surgery of
the Thoracic Spine. Presented at the Pediatric Orthopaedic Society of
North America Annual Meeting, Cleveland, Ohio, May 1998.
# 25.
Mayfield JK. Spine Deformity in Myelomeningocele. In: Bradford DS, Hensinger RM, eds.

The Pediatric Spine.

New York: Thieme, 1985.
+ 26.
Mayfield JK. Severe Spine Deformity in Myelodysplasia and Sacral Agenesis: An Aggressive Surgical Approach.

Spine

1981;6:498.
+ 27.
Mazur
J, Menelaus MB, Dickens DR, et al. Efficacy of Surgical Management for
Scoliosis in Myelomeningocele: Correction of Deformity and Alteration
of Functional Status.

J Pediatr Orthop

1986;6:568.
+ 28.
McCarthy RE, Dunn J, McCullough FL. Luque Fixation to the Sacral Ala Using the Dunn-McCarthy Method.

Spine

1989;14:281.
+ 29.
McGuire CD, Winter RB, Mayfield JK, Erickson DL. Hemimyelodysplasia: A Report of Ten Cases.

J Pediatr Orthop

1982;2:9.
+ 30.
McMaster MJ. The Long-term Results of Kyphectomy and Spinal Stabilization in Children with Myelomeningocele.

Spine

1988;13:417.
+ 31.
McMaster MJ. Anterior and Posterior Instrumentation and Fusion of Thoracolumbar Scoliosis Due to Myelomeningocele.

J Bone Joint Surg Br

1987;69:20.
+ 32.
Moe JH, Purcell GA, Bradford DS. Zielke Instrumentation (VDS) for the Correction of Spinal Curvature.

Clin Orthop

1983;180:133.
! 33.
Morgagni JB.

The Seats and Causes of Diseases Investigated by Anatomy,

vol 3. London: A Millar & T Cadell, 1979.
+ 34.
Osebold WR, Mayfield JK, Winter RB, Moe JH. Surgical Treatment of Paralytic Scoliosis Associated with Myelomeningocele.

J Bone Joint Surg Am

1982;64:841.
+ 35.
Powell
ET, Krengel WF, King HA. Comparison of Same-day Sequential Anterior and
Posterior Spinal Fusion with Delayed Two-stage Anterior and Posterior
Spinal Fusion.

Spine

1994;19:1256.
+ 36.
Pratt
RK, Webb JK, Burwell RB, Cummings SL. Luque Trolley and Convex
Epiphysiodesis in the Management of Infantile and Juvenile Idiopathic
Scoliosis.

Spine

1999;24:1538.
# 37.
Raycroft JE, Curtis BH. Spinal Curvature in Myelomeningocele: Natural History and Etiology. In:

American Academy of Orthopaedic Surgeons: Symposium on Myelomeningocele.

St. Louis, MO: Mosby, 1972.
+ 38.
Samuelsson L, Eklof O. Scoliosis in Myelomeningocele.

Acta Orthop Scand

1988;59:122.
* 39.
Sanders
JO, Nerring JA, Browne RH. Posterior Arthrodesis and Instrumentation in
the Immature (Risser Grade-0) Spine in Idiopathic Scoliosis.

J Bone Joint Surg Am

1995;77:39.
+ 40.
Seller
MD, Nevin NC. Periconceptional Vitamin Supplementation and the
Prevention of Neural Tube Defects in South-east England and North
Ireland.

J Med Genet

1984;21:325.
+ 41.
Sharrard WJ. Spinal Osteotomy for Congenital Kyphosis in Myelomeningocele.

J Bone Joint Surg Br

1968;50:466.
+ 42.
Tosi LL, Slater JE, Shaer C, Mostello LA. Latex Allergy in Spina Bifida Patients: Prevalence and Surgical Implications.

J Pediatr Orthop

1993;13:709.
+ 43.
Warner WC Jr, Fackler CD. Comparison of Two Instrumentation Techniques in Treatment of Lumbar Kyphosis in Myelodysplasia.

J Pediatr Orthop

1993;13:704.
+ 44.
Winston
K, Hall J, Johnson D, Micheli L. Acute Elevation of Intracranial
Pressure Following Transection of Non-functional Spinal Cord.

Clin Orthop

1977;128:41.
+ 45.
Yates
JR, Ferguson-Smith MA, Shenkin A, et al. Is Disordered Folate
Metabolism the Basis for the Genetic Predisposition to Neural Tube
Defects?

Clin Genet

1987;31:279.